Since the 1950's, D. Ferruccio has been dedicated to serving quality home heating oil delivery to Hudson, MA, as well as providing heating system services at a reasonable price. When we first opened, D. Ferruccio & Son, Inc. was simply known as Ferruccio Oil when Dominic Ferruccio first broke ground. It didn't take long, though, for his son Jack to start working with his father in the company, quickly taking the lead in the business.
Jack soon married his wife, Nelda. Getting a feel for the business, Nelda took charge of the office, working side-by-side with Jack. They soon had a son, Kevin, who proudly followed in his father's shoes.
Starting part time, Kevin learned all about the heating oil business, leading to his part-ownership with his father in 1978. Not only did the father-son duo now own the business together, but they incorporated the business, changing its name to "D. Ferruccio & Son, Inc."
In the 90s, Jack retired, leaving the business to his son's trusted hands, but the family tradition endured. One of Kevin's three children, Mark, became part-owner with his father, also delivering oil and working as a licensed burner technician.
Today, we proudly carry on the family tradition of dedication, hard work, and quality to our customers and ourselves. We strive to bring our customers the best service and products available, keeping them informed and aware of all of their options in the increasingly large base of heating system products and options. Know that when you choose D. Ferruccio, you choose the best.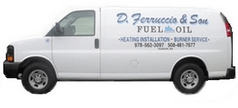 Contact us
Help us continue to serve your complete home heating needs! If you are interested in a service that we do not currently provide, we'd love your feedback as we continue to grow and expand our offerings.
Contact us